2022 Tournament update:
April 22nd - Mandatory Captain's Meeting for Shootout
April 23nd: 36th Annual Gorenflo's Cobia Shootout

April 29th - Mandatory Captain's Meeting
at
Wahoo's Poolside Bar & Grill
April 30th - May 1st: 36th Annual Gorenflo's Cobia Tournament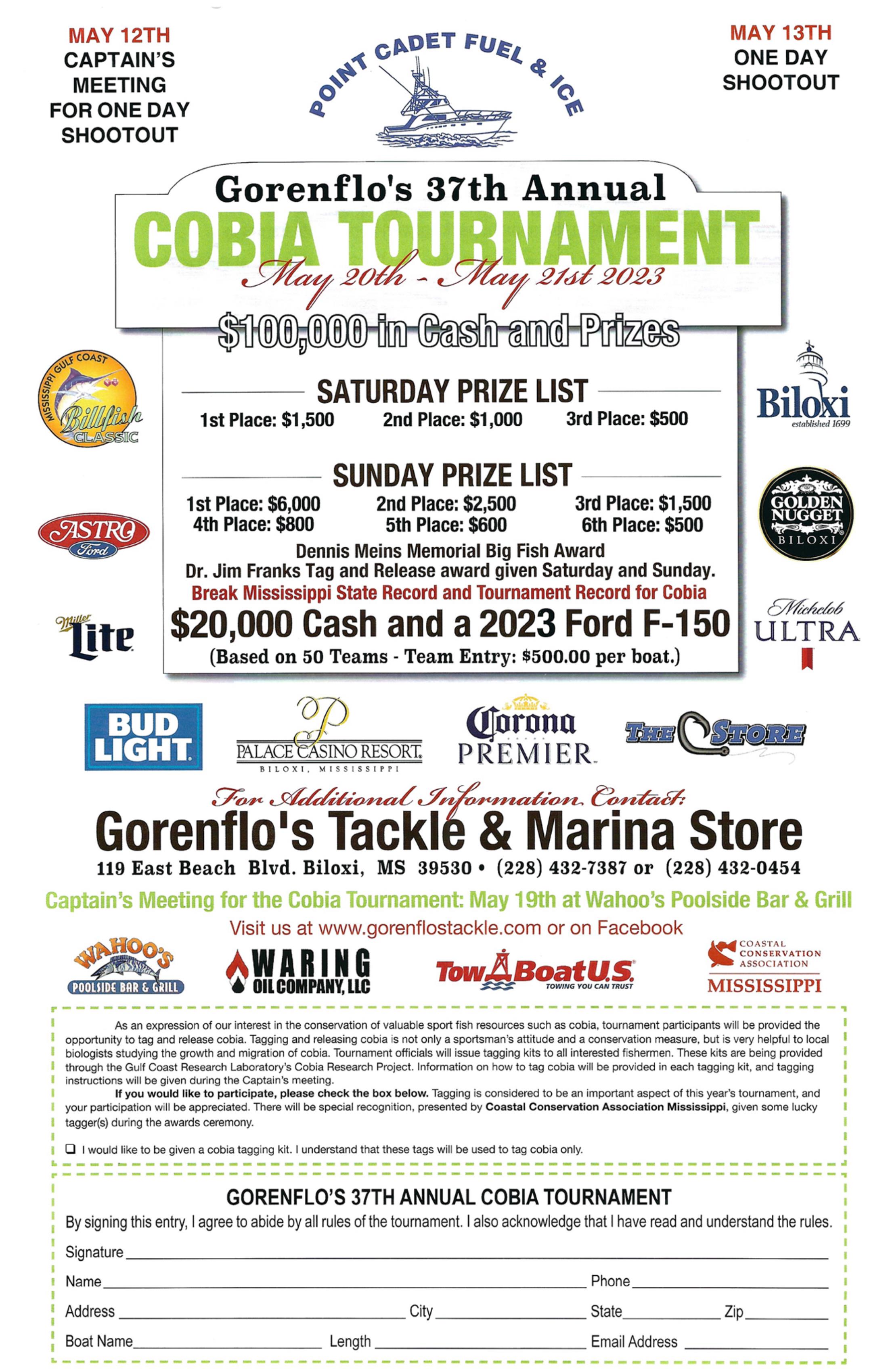 In 1986 two friends, Jordy Pitalo and Danny Pitalo came up with the idea of opening up a tackle shop to get all the latest fishing items, because we both liked to fish. I at the time was fishing a 28ft. Topaz (Backlash), and Jordy and Greg Hebert had a 28ft. Stamos (Foolish Pleasure). We looked for a place to open up and in consulting with Mr. Sam Farris of Farris Brothers, Inc. we decided to buy an existing tackle shop in Biloxi on Irish Hill Dr. called Gorenflo's Tackle. The shop had been around since the 1930's, and was owned by Mr. Wilford Gorenflo. After his passing, his wife Pat kept it going and later sold it to Ralph Hyer. In 1986, we bought it from Ralph and opened it with two other partners; Dr. Jeff Sauls and Joseph Hebert. The new location was at Point Cadet in the new waterfront development, that was on the state parks site where it remained until 1995. At that time it was purchased solely by Danny Pitalo and moved into the Point Cadet Marina in the harbor master's tower where it remained until Katrina (Aug. 2005). We are still at Point Cadet Marina in the southeast corner, so come out and see us for all of your fishing tackle and marine fuel needs.
Thank You,
Danny and Laurie